Q & A with Ali Hall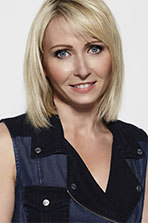 Q.
Why collaborate with Simply Be?
A.
For me, I love the fact that Simply Be cater for all shapes and sizes something I've always championed and we really embrace as a brand. As a company they also have a really strong sense of who their customer is. That was important as at Look we're all about knowing the reader inside out and giving them what they want.
Q.
Tell us your inspiration behind the range.
A.
Inspiration came from all sorts of things, from street style to vintage dresses. The catwalks played a huge part in influencing this season's collection, inspiring us to create bold prints and mix clashing patterns. We also looked to designers when thinking about the clean, minimal silhouettes.
Q.
How much input have you had in terms of designing the range?
A.
Lots! Members of my team and I came up with the original moodboards and ideas which kickstarted the conversation with the design team at Simply Be. After that, we were involved every step of the way, whether it was choosing fabrics, tweaking CADs (computer aided designs, very technical!), changing proportions of the designs on fit models at the sample stage or last-minute colour alterations. It's been really exciting.
Q.
Which pieces in the collection do you think your readers will love the most?
A.
I know from feedback that the jumpsuit from the first collection sold brilliantly, so we decided to update the style for autumn and hopefully create a new bestseller. Our maxi shirtdress makes for a perfect transitional style that you can wear with strappy flats in summer, then chunky ankle boots on cooler evenings. It's really versatile. I also think the bright pink leopard-print dress will be a huge hit it's super flattering and cool.
Q.
What do you hope to accomplish with this collection with Simply Be?
A.
Ultimately, everyone wants to look good and feel great, and I hope this collection will give people the opportunity to really experiment with their style and have fun with print, shape, texture and colour. It's all about embracing fashion, whatever your size.
Q.
What are the biggest trends to be seen in this season?
A.
Where do I start? As always, the autumn/winter catwalks produced so many covetable trends. Bold checks and plaids were huge, especially doubled up like at Tommy Hilfiger and Jean Paul Gaultier, which we've nodded to with our boyfriend coat and matching top. There was a big retro vibe among designers, and our printed maxi dresses and wide-legged jumpsuit all have a 70s feel to them. And when it comes to colour, it's all about cobalt blue, which we've totally embraced.
Shop Look Magazine Collection >