Bra Fitting Guide
Your guide to making sure you're always getting the Perfect Fit
Buying a bra can be tricky, which is why its really important to get the correct bra size for you and of course to make sure you look and feel gorgeous. Our bra fit guide will tell you how your bra should fit, how to measure yourself to find the right size. So get measuring and find the perfect style for you.
Check your bra size
Before you do anything else, you have to check if you're wearing the right size.
So put on your best fitting bra, find a decent sized mirror and follow these easy steps.
The wires at the front, in the middle
of your chest (called the centre-front) should sit flat against your body.
The wires should sit flat against your rib cage in the crease of your bust with absolutely no lifting away.
Breast tissue should be encased completely by the wire. The wire should sit behind breast tissue, under your arms.
Cups should fit with no bulging over or gaping at the top.
The back-band should sit horizontally cross your body, in line with the wires at the front of your bra.
Your back-band should be nice and snug. You should not be able to pull it more than 2 inches from your back.
Your straps should be adjusted in length to give support to the cup but should also be comfortable.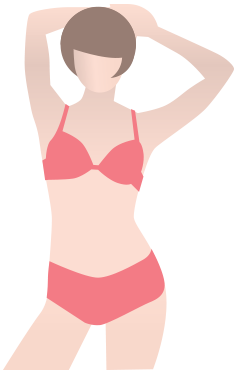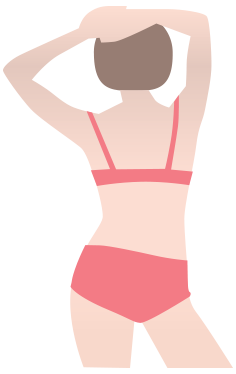 Common fit problems & solutions
To make sure your bras fit as they should, take a look at our common bra fitting problems below.
We've also included handy tips on what to do if these issues should occur.
Problem


Cups baggy or creased

Solution


Try a smaller cup size

Your bra should fit perfectly without gaps or puckering of the fabric. If there are any visible creases in the cups, the cup is too big.

Problem


Wires lift away from body

Solution


Try a bigger cup size

If the wires are pulling away from your body in the middle or sitting on top of your breast at the front or side, your cup size is too small.

Problem


Wires dig into the breast

Solution


Try a bigger cup size

The wire at the side of your body should sit behind your breast, not on it. When a bra fits you properly, the wire encases the bust completely and does not sit on or dig into the breast.

Problem


Bulging out

Solution


Try a bigger cup size

If your cup size is too small, your bust will bulge over the top and the sides of the cups. Try bigger cup sizes until the top of the cup lies totally flat on your bust. If in doubt, try a t-shirt over your bra!

Problem


Shoulder straps dig in

Solution


Try a smaller back size

Your back band should provide most of the support. So when your straps are digging in, it's sign that the back band is too big.

Problem


Back band riding up

Solution


Try a smaller back size

If your bra rides up, your back band's too big and you won't get the right support. Test this by putting your fingers under the band and pull it away from your body - it shouldn't stretch more than 2 inches.

Problem


Back band too tight

Solution


Try a bigger back size

Your back band must be firm but comfortable. If you've tried on your new bra and it hurts, your back band is the wrong size for you.

Remember!
We suggest you go up a cup size for every back size you go down, and vice versa!
Call our bra fitting experts for bra fitting help & advice 0871 230 0295
Monday to Friday 9am - 8pm, Saturday to Sunday 9am - 5pm
Ultimate bra fitting videos
First, find out how to measure yourself and check if your bra fits with Sarah's step-by-step fitting guide.
Then, take the lesson one step further with Sarah's shape-focused style videos. Simply choose the woman whose size is the closest match to your own and see which styles Sarah recommends!
Shape-focused style videos
Style & inspiration
Click on a bra style below to find out more.
*cannot be used with another promotional code
Bra Fitting Guide
Do you struggle finding the perfect bra to fit? We're here to help, use our bra fit guide and get the right bra to fit you, no more tight straps, or loose fitting cups. Once you've got your perfect size, browse through our wide range of bras to suit you, from balcony to t-shirt bras.