Fashionable plus size women's tops for all occasions
Simply Be has a big range of ladies plus size tops in all the latest shapes. From going out tops and flattering evening tunics to trendy women's T-shirts plus shrugs, shirts and blouses, all our outsize ladies' fashion tops are available in sizes 14-32.
Gorgeous going out tops and ladies' tunics
Vests
Plus size camisoles and strappy tops
Cami tops are an essential in any woman's wardrobe. Wear a strappy top on its own in the summer or layer a camisole under a shirt, blouse or cardigan. We've plain, basic women's vest tops in a big choice of colours or pretty plus size camis to wear in the evening. Strappy tops are very versatile so make sure you've got a good selection.
Party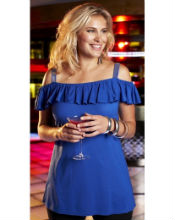 Glamorous going out tops & ladies evening tops
We've a large choice of plus size going out tops for your party outfits and womens evening tops. If you love glamorous clothing then go for a strapless top or boob tube top. For going out on the town, why not try something a bit different like an asymmetric one-shoulder top, an off the shoulder top or a halterneck going out top?
Tunics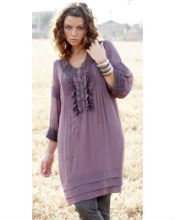 Flattering tunic tops and smocks
A plus size tunic top or gypsy style smock top will see you through so many different occasions. Choose a long length t-shirt tunic for casual days or a knitted tunic if you want something warmer. Simply Be also has dressy ladies evening tops and tunics with bead embellishment and sequins for special occasions.
T shirts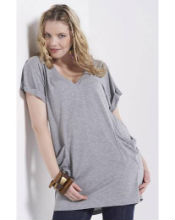 Trendy graphic print T-shirts in a large size range
The t-shirt is a fashion classic that will never go out of style. If you're looking for ladies' plus size fashion tees you'll love our range of graphic print T-shirts. Dress them up with heels if you're going out or wear them in a more casual fashion with jeans and pumps. We've basic women's T shirts too, great for layering with your other clothes.
Plus size shrugs and cover ups
Many women like to wear a shrug with a strappy top or a strapless dress. A shrug is similar to a bolero jacket or a cardigan where the edges just touch at the front. It's basically a cover up – perfect if you don't want your arms on show. Simply Be has a big range of fashionable plus size shrugs for day time or evening in size 14-32. If you've got a top or dress you don't dare to wear, you may find that adding a plus size shrug makes it wearable clothing again.
Women's shirts and blouses
As well as gorgeous going out fashion in bigger sizes, Simply Be has a big choice of smart women's shirts and more formal evening blouses. Whether you want a shirt for work or an elegant evening blouse you'll find what you're looking for in our women's outsize fashion clothing range.