Ladies plus size trousers both smart and casual
Trousers are a fashion staple for women – whether you're looking for smart business trousers or casual combat pants, high fashion plus size leggings (or jeggings) or casual women's leisure trousers, Simply Be has all the latest looks in a big size range. For work, going out, or simply relaxing, our plus size women's trousers collection has every occasion covered.
Fashionable women's clothing from business trousers to combat pants & cargos
Combats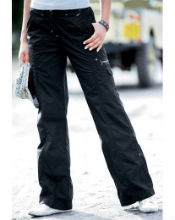 Women's casual trousers including cargos & combat pants
Combat trousers and cargo pants make a great alternative to women's jeans for relaxed, casual occasions. These casual leisure trousers are characterised by baggy trouser legs with flap pockets on the leg. For summer, combat trousers in white give a light, bright look. Or go for classic khaki cargo pants or camouflage combats if you don't fancy white combat trousers.
Bootleg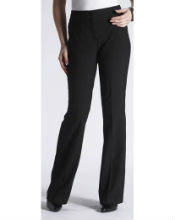 Ladies' bootleg trousers
Bootleg or bootcut trousers are similar to flares except that the flare at the ankle is more subtle. The bootcut is a popular shape as not only is it fashionable but the flared leg helps balance bigger hips. Smart black ladies' bootcut trousers are ideal for the office – or try bootcut jeans as flattering weekend clothing.
Smart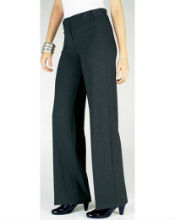 Plus size ladies' business trousers
If you're searching for the perfect working wardrobe some ladies' business trousers are essential. Classic black trousers are the most versatile, whether you choose flattering wide leg trousers or hip balancing bootcut styles. Buy ladies business trousers as clothing separates or buy women's 3 piece suit trousers from the smart work wear range in our large ladies fashion collection.
Dress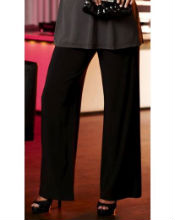 Evening trousers for women in larger sizes
If you're not a big fan of skirts and dresses then women's evening trousers are the answer to your clothing dilemma. Team ladies dress trousers with a glam going out top and heels for a gorgeous evening outfit. Harem trousers give you an up to the minute look or why not try an all-in-one catsuit or a jumpsuit, also known as a playsuit for a fashion forward yet simple evening outfit.
Get on trend with leggings and jeggings
Plus size leggings are a fashion must-have for curvy girls. Leggings and jodhpurs look fab worn with a long tunic top or layering under a dress. Leggings are comfy enough to wear on dressed down days but they can also look glam for going out. Try teaming sequin leggings or wet look leggings with heels for a sexy fuller figure fashion look that shows off shapely legs. Jeggings are a relatively new item of clothing – they're basically denim leggings that look like figure-hugging, tight jeans. Jeggings are also fashionable and flattering for the fuller figured woman.
Women's jeans, jogging bottoms, chinos & more
Women have so many choices when it comes to casual leisure trousers. As well as combat trousers and combat pants (not to mention leggings and jeggings) women can also choose from chinos, linen trousers, jogging bottoms, crop pants and of course, jeans. When it comes to comfort you can't get any more relaxed than fleece trousers, jogging bottoms or tracksuit bottoms. Chinos and linen trousers are a little smarter and crop trousers, also known as pedal pushers, are perfect for the summer time.