6

the set

Call game, set and match with the season's prettiest bra and knickers sets. In a stunning selection of sugary shades and romantic prints, nothing beats the feeling of perfectly coordinating undies.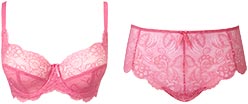 6

the video

Sweet separates, saccharine sets and a delicate details everything you need to rise and shine to gorgeous lingerie. See this sugary edit in action in our latest lingerie video.
6

sweet


just like you

From subtle floral touches to bold graphic prints, discover beautiful blossom details across this candied collection. Inspired by the latest trends, we've chosen only the prettiest prints for your lingerie drawer.
6

summer


essentials

Refresh your lingerie this summer and stock up on your sunny season essentials. Whether you're heading to exotic shores or getting festival ready, make sure you're suitcase/backpack has all your lingerie must-haves.
6

qskin

Built into a selection of our amazing shapewear, Qskin is a revolutionary new movement in the world of lingerie. A skin-friendly fabric, Qskin helps to maintain the perfect balance between freshness, hygiene and comfort.