HOW SHOULD BOOTS FIT?
When we say fit's our thing, we mean it. Boots that you can dance all night in? Yep. Boots you can actually walk to work in? Hell yeah.

Your boots should fit comfortably with a bit of wiggle room to allow your feet to expand and swell throughout the day. The sides shouldn't feel squished, you should have an inch of room at your toes, and your heel should have half an inch at the back too.

Some boots might take a bit of breaking in but too much slipping at the heel is not a good sign. You should also measure your foot width and calf width to get the most accurate measurements, which we've got covered…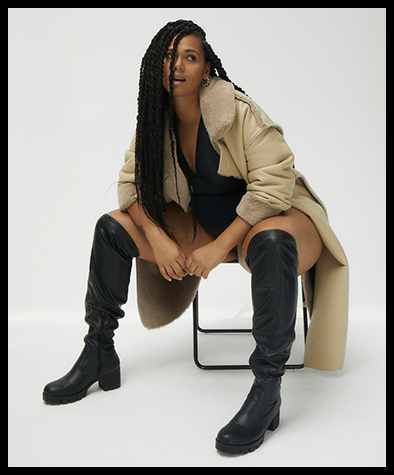 MEASUREMENT GUIDES
Step One:



HOW TO FIND YOUR FOOT WIDTH
Grab a tape measure and wrap it around the widest part of your foot. You can work out your true size in the chart below.
FYI. Shoe size + foot width = true foot size.
Step Two:



HOW TO FIND YOUR CALF WIDTH
Next up, find out your calf width. Take your tape measure around the widest part of your calf, then check which of our calf widths works for you.
True foot size + calf width = your perfect fit.
Step Three:



CHOOSE YOUR FIT
Yep, we've got different calf size boots so you can find your perfect fit.
Step Four:



CHOOSE YOUR BOOT STYLE
You've got your perfect fit ready to go, now you just need to choose your favourite style.